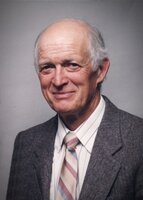 Kenneth Brown
With great sadness, we announce the passing of Kenneth Beach Brown of Alexandria, Ontario.
Born in Cowansville, Quebec, Ken passed away at age 93 on August 25, 2022 at the Glengarry Memorial Hospital. Beloved husband of 69 years of Janet Brown (née Purcell), loving father of Karen Brown, the late Susan Brown, and Douglas Brown, and dear grandfather of Edwin Ye-Brown, Ken leaves behind his sole surviving sibling Warren Brown, his sisters-in-law Joy and Shirley Brown, and many grieving relatives.
A wonderful husband and father, Ken was a gentle and encouraging presence in the lives of his extended family of siblings, in-laws, nieces, and nephews, and in the lives of friends, colleagues, and acquaintances.
After growing up on his grandparents' farm in Quebec's Eastern Townships, Ken first lived in Alexandria in the early 1950s and got to know Eastern Ontario farms as a field inspector for the Carnation Milk Plant. Janet and Ken were married in 1953 in Notre-Dame-de-Grace, Montreal. After stints in Quebec, Pennsylvania, West Virginia, and southwestern Ontario, they returned to Alexandria with their family in 1969 when Ken became manager of the Carnation plant, continuing in this role with Nestlé until his retirement. Interested in both agricultureand industry, Ken followed local and national developments in these areas closely.
An expert gardener and an enthusiastic curler, hockey player, golfer, and tennis player, Ken remained active in his communityand its organizations during retirement, volunteering at Glengarry Memorial Hospital for years. A constant reader, heenjoyed participating in the activities of the Glengarry Historical Society, as well as his memberships in the Missisquoi Historical Society and the Quebec Anglophone Heritage Network.
Both graduates of MacDonald College, Ken and Janet attended many reunions with their Class of 1951, maintaining closefriendships with classmates and friends across Canada and the US. Ken and Janet shared a good and long life together.
A service will be held at the Alexandria United Church, 36 Kincardine St E, Alexandria, ON K0C 1A0, on Friday, September 2 at 10:30 am. The family will be receiving visitors at the church from 10:00.
In memory of Ken, donations may be directed to the United Way SDG Community Fund at www.unitedwaysdg.com .